No matter what the market conditions may be, having a trusted real estate agent to call upon when you're buying or selling your home is a wise decision.  From luxury estates to price-conscious townhomes, these Realtors will make sure that you receive the best deal possible.  Below are the ten best real estate agents in Scottsdale:
1. Scottsdale Fine Properties - Lesley Martinson
480-391-7100
16641 N 91st St Ste 101
Scottsdale, AZ 85260
2. Keller Williams Realty
Jim Messenger, GRI, REALTOR
(623) 910-5304
3. Ranch Realty
480-991-4000
7353 N Via Paseo Del Sur
Scottsdale, AZ 85258
4. Toltec Custom Homes - Monica Hammond
480-244-6347
10040 E Happy Valley Rd. #412
Scotsdale, AZ 85255
5. MoJo Realty Group
602-373-0746
8563 E San Alberto Dr, Ste 130
Scottsdale, Arizona 85258
6. Russ Lyon / Sotheby's International Realty - Judy Brickman
480-488-7560
34305 N. Scottsdale Rd.
Scottsdale, AZ 85266
7. Realty Executives - Matt Pellerin
602-404-9700
10607 N Hayden Rd, Suite 100
Scottsdale, AZ 85260
8. REMAX All Stars Realty
480-998-6000 Ext. 126
8079 N 85th Way
Scottsdale, AZ 85258
9. Dominion Real Estate Partners - Brian Young
602-405-3949
7579 E. Main Street Suite 700
Scottsdale, AZ 85251
10. Doug Simms Scottsdale Real Estate
480-980-6925
20801 N Scottsdale Rd
Scottsdale, AZ 85255
Scottsdale real estate rivals property from all over the country in both beauty and price, so it is very helpful to have a trustworthy mortgage specialist on call whether you are buying a new home or refinancing your pre-existing estate.  Below are the ten best mortgage brokers in Scottsdale:
1. De Anza Capital
480-951-6900
33777 North Scottsdale Road Ste 125
Scottsdale, AZ 85266
2. Hart West Financial
480-596-5151
9805 E. Bell Rd. Ste 120
Scottsdale, Arizona 85260
3. America's Mortgage Store
480-850-6500
8436 E. Shea Blvd., #100
Scottsdale, AZ 85260
4. Countrywide Home Loans
480-302-6060
8414 N 90th St Ste 102
Scottsdale, AZ 85258
5. F.T. Financial
480-970-9499
9420 E. Doubletree Ranch Road C-110
Scottsdale, Arizona 85258
6. Kokopelli Mortgage & Financial Solutions
480-588-8920 x106
14300 N. Northsight Blvd. #214
Scottsdale, Arizona 85260
7. IndyMac Federal Bank
480-375-2200
7272 E Indian School Rd
Scottsdale, AZ 85251
8. First Arizona Mortgage
480-905-3434
8404 E Shea Blvd Ste 101
Scottsdale, AZ 85260
9. Northsight
480-699-8304
8520 E Shea Blvd Ste 111
Scottsdale, AZ 85260
10. Mortgage Concepts
480-306-4432
9915 E Bell Rd
Scottsdale, AZ 85260
Every bride and groom tries to plan a wedding that will please their families, their guests, and, of course themselves. There are so many plans to make, meetings to be held, and details to keep track of so whether you are walking down the aisle soon, just got engaged, or are dreaming of a wedding day far off in the future here are some of the top wedding vendors in Scottsdale that will result in a day to remember.
1. Distinctive Weddings, Amy Mancuso - Wedding Consultant
602-482-7792 (by appointment only)
[email protected]

Amy Mancuso is one of the premiere wedding consultants in Arizona and is a preferred vendor at the finest hotels and resorts throughout the valley. Let Amy show you how she can make your wedding an exquisite occasion that will be remembered forever.
2. Destiny's Bride - Bridal Gowns
480-368-8868
6166 N Scottsdale Rd Ste 609
Scottsdale, AZ 85253

A wedding gown maybe the most important dress a woman will ever wear. Destiny's Bride has become the largest and most prestigious couture salon in the state of Arizona. They offer an elegant and comfortable environment with a multitude of designer gowns such as Carolina Herrera, Vera Wang, Augusto Jones and my personal favorite Amy Michelson among many more.
3. Lillian Lottie Couture - Bridal Accessories (Veils, Garters, Headpieces, Wedding Jewelry & Shoes)
480-941-6041
7142 E 5th Ave
Scottsdale, AZ 85251
[email protected]

This is the only bridal salon nationwide where clients can work directly with the expert designers and highly trained staff to style their wedding attire. Lillian Lottie Couture is a full service bridal salon featuring high end bridal gowns, and custom bridal accessories like veils, garters, headpieces, wedding jewelry, shoes, and services seen no where else.
4. Twirl Boutique - Bridesmaid Dresses
480-221-1222
Hilton Village
6137 N Scottsdale Rd Ste B101
Scottsdale, AZ 85250
[email protected]

This boutique is the perfect place to chose your bridesmaid dresses. Designers from New York and San Francisco have made their debut in the valley , exclusively a t Twirl's Scottsdale boutique, bringing a cosmopolitan sophistication to the Arizona bridesmaid. They carry designers such as Thead, Lynn Lugo, Alvina Valenta, the Vineyard Collection and many more.
5. Kelly Ashworth Design - Invitations
928-252-2590
[email protected]

Save the date & Wedding Invitations are a wonderful way to express the tone and feel of your wedding to your guest. Kelly Ashworth Design makes every element of the planning process fun and imaginative. They are filled with creativity and attention to detail and will help bring the spirt and emotion of your wedding.
6. Blume Events - Florist
480-654-0998
1829 S. Horne, Suite 8
Mesa, AZ 85204
[email protected]

My favorite aspect of any wedding are the flowers! Specializing in  wedding events, Blume creates unique fresh floral arrangements, and limits the number of events they work with each weekend so they can give special attention to each wedding. They have been In business for ten years and offer their clients a complementary consultation with the owner.
7. Cathy's Rum Cake Caterers
602-996-9099
4807 E Greenway Rd # 5
Scottsdale, AZ 85254
[email protected]

Bring in a picture of that special border you have been dreaming about and Cathy will combine it with her delectable flavors. Your favorite flavors can be included, as each tier can be a different flavor. For a wedding cake the will leave your guests with a lifetime glow of enchantment you must choose Cathy's Rum Cake.
8. Diamond Showcase - Jewelry Store
480-949-9111
6900 East Camelback Road, Suite 1050
Scottsdale, AZ 85251

Diamond Showcase is where educated consumers from Arizona and beyond go to find a diamond inventory that surpasses $15 million in G.I.A. graded diamonds. They offer an outstanding selection of engagement rings, men's wedding rings, and women's wedding bands.
9.  Rebecca Bouck Photography
480-747-2745
[email protected]

When it comes to commemorating your special day  you will simply want the best and most professional photograher. Rebecca's photographs have graced the pages of People Magazine, Destination I Do Magazine, Arizona Bride Magazine and a myriad of others.
10.  Sanctuary on Camelback Mountain - Reception Site
480-948-2100
5700 East McDonald Dr
Paradise Valley, AZ 85253
[email protected]

Scottsdale offers many beautiful reception sites but to give your wedding reception extraordinary flair Sanctuary on Camelback Mountain surpasses them all. They offers ballrooms indoor and out with breathtaking views, spectacular lawns, a garden terrace and patio.
Considering that Scottsdale has become a top retirement destinations for some of the World's wealthiest individuals, you will find beautiful homes and breathtaking scenery.  Growing up in Scottsdale gave me a unique perspective on the best places to live in the city.  Topping the list as the best place to live in Scottsdale is the Arcadia community.  From its large lots to unique architecture and high quality school district, it's simply the best neighborhood to reside in Scottsdale.
Arcadia

Dessert Highlands

DC Ranch

Paradise Valley Farms

Equestrian Manor

Troon

Scottsdale Country Club

Greyhawk

Gainey Village
Besides a resort and vacation destination, Scottsdale has grown by leaps and bounds over the past decade, and along with that growth, the city now has an excellent apartment and condo selection for families, young professionals, and college students.  If you are re-locating to the city from California, you will also be pleased by the prices offered, they truly are a great value.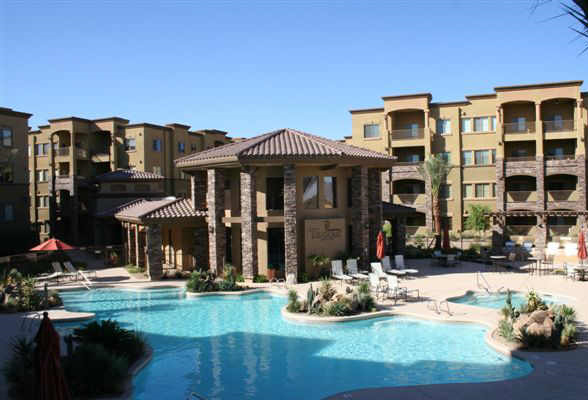 602-320-1057
7175 E. Camelback Rd
Scottsdale, AZ 85251
2. The Mark, Toll Brothers City Living
480-675-9400
6803 E. Main Street
Scottsdale, AZ 85251
480-391-3493
9750 N. 96th Street
Scottsdale, AZ 85258
480-686-8350
19777 N 76th St. #1297
Scottsdale, AZ 85255
480-948-7070
5335 E Shea Blvd
Scottsdale, AZ 85254
480-419-6975
9820 E. Thompson Peak Pkwy
Scottsdale, AZ  85255
866-861-2105
7007 E. Gold Dust Ave.
Scottsdale, AZ 85253
480-451-1200
11375 E. Sahuaro Dr.
Scottsdale, AZ 85259
9. Bella Terra Condominiums (Different Complex)

866-522-7058
5335 E. Shea Blvd
Scottsdale, AZ 85254
866-567-4219
10255 E. Via Linda Rd
Scottsdale, AZ 85258
In a city that thrives off tourism and resort travel, Scottsdale offers visitors unrivaled destinations to relax and rejuvenate.  My top selection for this category is a common resort destination for celebrities around the globe, this world renowned establishment is The Sanctuary.  From offering leading spa amenities to one of the best restaurants in the city, The Sanctuary is sure to give you an experience of a lifetime.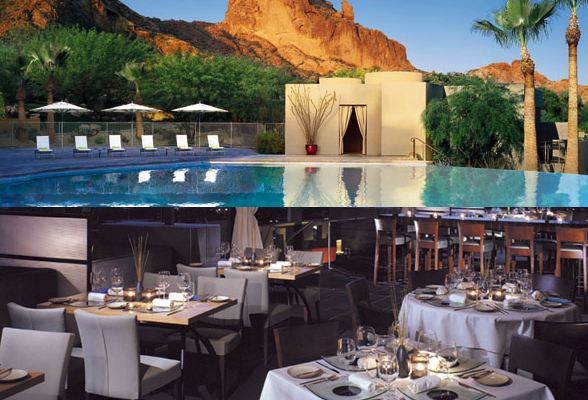 1. Sanctuary Camelback Mountain
480-948-2100
5700 E. McDonald Dr
Paradise Valley, AZ 85253
2. The Phoenician
480-941-8200
6000 E. Camelback Rd
Scottsdale, AZ 85251
3. Mondrian
480-308-1100
7353 E. Indian School Rd
Scottsdale, AZ 85251
4. Four Seasons Resort
480-515-5700
10600 E. Crescent Moon Drive
Scottsdale, AZ 85262
5. Millennium Resort Scottsdale McCormick Ranch
480-948-5050
7401 N. Scottsdale Rd
Scottsdale, AZ 85253
6. FireSky Resort & Spa
480-945-7666
4925 N. Scottsdale Rd.
Scottsdale, AZ 85251
7. Hotel Valley Ho
480-248-2000
6850 E. Main St
Scottsdale, AZ 85251
8. Westin Kierland Resort Villas
800-354-5892
6902 E. Greenway Pkwy
Scottsdale, AZ 85254
9. Hyatt Regency Scottsdale Resort
480-991-3388
7500 E Doubletree Ranch Rd
Scottsdale, AZ 85258
10. The Fairmont Scottsdale Princess
480-585-4848
7575 E. Princess Drive
Scottsdale, AZ 85255